Last Updated on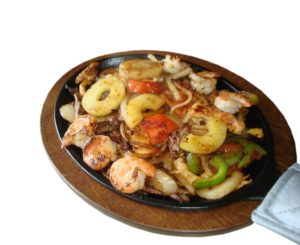 On your way to a family gathering you find yourself driving through Des Moines, IA. After a long morning on the road, your stomach is definitely telling you it's lunchtime, and you pull out your smartphone to find out what the best local restaurants are. The top locations, including Fong's Pizza, Centro, and Django come up, but you're craving Mexican food, so you search again, this time specifically for local Mexican restaurants. Several more locations come up, with a couple promising ones – 5 De Mayo and Tequila.
5 De Mayo's business website is straightforward, featuring a full menu with pictures of their dishes and pricing. I know what I can get, what it will cost, where they're located, and how to call and see if I'll need a reservation.
Tequila, while it has received higher praise in reviews, only has those and contact information to draw upon at a glance – there's no business website for you to check out the food or price out the likely bill.
Deciding the fajitas at 5 De Mayo look too good to pass up, you set off toward your destination and Tequila loses out on a potential new customer, not to mention the powerful recommendations that could come from a great meal.
Tequila might have great word of mouth in their local area, an active social media presence containing their menu, and even a better establishment, but without a business website, none of that matters as much as it could. I know Facebook isn't the first place I'm going to look for restaurant information – especially when I'm hungry and want food now. Odds are, it isn't for you either.
Don't lose new customers because you're behind the times!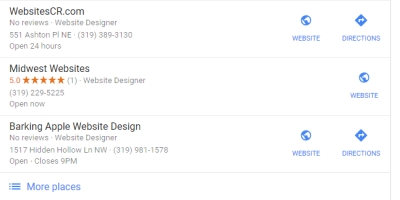 We've all been this prospective patron at one time or another. Whether you're looking for a place to order dinner from on your way home, a reliable contractor to fix that leak in your home's foundation, or a skilled mechanic to check out your car's check engine light, your quest will always start at your favorite search engine.
From there, you have your pick of local businesses, but how do you narrow them down to the one that you can trust? Who has good reviews? Who has a professional looking website that shows what they actually do?
If you judge businesses this way as you compare them, why would you think your customers don't do the same?
That's why your business needs a website.
Your business website is more than just the present day version of your phone book listing and business card. It is the (yes, THE) place where you tell prospective and current clients:
Who you are
What you can do for them
Where you can be found
Why they should choose you
How they can reach you
If your company don't have a place on the Web in today's day and age, you've been removed from the running for customer attention before you could begin to attract it. Still not convinced? Let's start by breaking each of the earlier points down into the questions they represent for a potential customer. All of them represent areas of opportunity for your business website to build rapport, win trust, and ultimately deliver new business to your company.
Afterward, we'll cover some statistics that showcase why you need to be online and the work a quality business website does behind the scenes.
Who are you?
Most business cards have a few key details on them, but the element that jumps out at someone when they first look at one is your logo. Your brand. If you have done any marketing, whether to get your name out there or to build your reputation, this is your first potential opportunity for buy in with a prospective client.
Your business website is going to be no different than your business card when someone clicks your link in a Google search – logos are almost always going to jump out at visitors because they're typically placed at the top of your webpages.
But what if you don't have a logo? Our first piece of advice is to get one – branding is a critical part of advertising. That said, without a logo, the next place a prospective client is going to look at is the name of your business. Many businesses incorporate what they do into the name of their company, and with good reason. It tells people whether they have found the right company for the service they need – and with the extremely short attention span of the average internet patron, this can make or break whether they consider your company on the spot.
What can you do for customers?
You've put yourself in the running for this client's business, now you need to grab their interest. Like a phone book listing, you want your primary services to be easy to identify, because that is going to be a visitor's first and most urgent concern. The average time you have to get this information across to each site visitor is about 6-8 seconds, depending upon who you ask. To do this, you need to have two rules in mind at all times when designing your website:
Core business products and/or services should be in plain sight on every page – you don't know which page each visitor will start on.
The primary point(s) of any given page should be obvious at a brief glance.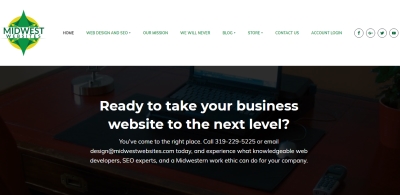 While this looks complicated on paper, your website's navigation bar can take care of your first rule all by itself. It will be one of the first places someone will look when they land on your website, so long as it is across the top of your page rather than off to a side or hidden in your footer. This allows you to fully focus on the second rule, using headings, calls to action, pictures, etc. within your design to make your message creative and professional.
In order to maximize the impact your website's design and message have, your website platform of choice needs to offer you as much control as possible. This is often why people use WordPress to build a business website (and one of many reasons why we exclusively build with it) – it promotes flexibility for people of most levels of web design experience.
If you run into a need your current setup can't accommodate, you can usually work it into a WordPress website through use of a plugin, a different theme, or custom code. While the last option would be daunting for a WordPress novice, the first two solutions are easily accessible with little experience. Conversely, a new plugin or theme might create more variables than a coding expert wants.
Once your business website has demonstrated that you can solve the problem your prospective customer is facing, you now need to set yourself apart from the competition. You've usually hooked someone's interest by this point, so they'll be more willing to explore your site to learn more about you, see what other services you offer, and review the selling points that make you the right person for the job.
While you don't need to make your selling points quite as prominent as your products or services, you definitely don't want to make someone dig deeply for the. Remember, modesty has no place in your presentation.
Where can you be found?
You've positioned yourself as a potential solution to the problem at hand; now your prospective client needs to know if you are actually in a place where you can help them. For brick and mortar businesses, this is where three of your most important selling points come into play: location, location, location. If you aren't in a position to utilize e-commerce, this needs to be as prominent as your business name, as this is what brings people in the door and keeps a roof over your merchandise.
If you sell online in addition to having a physical location, give your customers the opportunity to take advantage of a local pickup option. They get to save a few dollars on shipping and you get a chance to show off some of your other products in person. If they don't end up buying anything else, the extra foot traffic is worth the price of admission alone – looking busy is far better than the alternative when it comes to your store's image.
For service-based businesses, such as plumbers, electricians, and contractors, the question of where you can be found will be rephrased as, "Will you come to me?" by your customers. If you have a service area, be very clear about how far you are willing to travel, and set that figure by determining where you would go for the very best type of job your business handles. If your profit margin is reduced too much by the time and fuel you'll spend for a less lucrative project, you can always decline after your consultation with a prospective client. This way, you aren't sacrificing good opportunities that are available further abroad.
Why should customers choose you?
This point was touched on a bit earlier, but this is where elements like your reputation are critical. This can be fueled by word of mouth, reviews on Google, or even testimonials placed on your business website. In the case of all three, your business website is either the mnemonic device for people to remember nice things their friends or family said about you or the tool that brings up supporting details about the work you've done in the reviews of strangers. Both are important elements for helping convince someone they are making the right decision, and neither is as prominent without your online business card.
Another great way to win customers over is to build up the value they will receive by hiring or purchasing from you. A few of the questions your customers might ask as they browse include:
Is there free shipping on orders over a certain amount?
Do you offer holiday discounts that will be delivered by a certain date?
Are there discounts for buying a service bundle?
Is there a lower price point when buying annual subscriptions instead of monthly?
Does "X" include "Y", or "Y" and "Z"?

Getting the most bang for their buck is as important to customers as it is to you, so if you can give them more than your competitors, the more likely they are to buy.
Savings and perks aren't the only things you can show off – peace of mind is a priceless addition to any purchase.
If you have a guarantee or warranty, make sure you're showcasing them  – there's nothing like the security of knowing a business stands behind their products or work!
That said, while guarantees and warranties can set you apart from competitors, they should not be elevated above secondary selling points. Nobody really wants to have their job done a second or third time when it could have been done correctly on the first visit. Everyone has had to make that call at some point, and almost none of us were thrilled about doing so when problems arose – never forget that your customers will feel the same way.
How can customers reach you?
The reasons they want to do so have been created by the previous four questions you've answered, so now is the time to get your customers to take action. Your preferred method(s) of contact will vary from business to business, but you need to make sure your ideal ones are always available on your website, regardless of which page a customer is on. Once you have them on each page, double check how easy it is for average users to find them. Enlist the help of friends or family that weren't involved with your business website's design and have them verify your placements make sense.
If you have more than one way for someone to reach you (say, a phone number and an e-mail address), you'll also need a dedicated area or two where all methods for contacting you are readily available. After all, not everyone is comfortable with reaching out to a stranger on the phone or sending personal information through an email without gauging the type of person you are over a phone conversation.
Not sure of where your contact details should live? There are several common places this information can be found on successful websites, and we'll list them in their order of importance:
Header: This is easily the most visible spot on every page of your business website, because it will always be in view when each page of your site loads. If you can't place contact information here due to design constraints, then make sure it is prominently featured above the fold (meaning it shows on a page without scrolling) of most pages. Take a look at the pages of our website as an example.
Contact page: This should always be a part of your navigation bar at the top of all pages, giving visitors a simple way to jump to all your contact details on every page of your business website. Check out ours as an example.
Your written copy: Working this into areas that make sense can be a good way to drive your customers toward a desired action on certain pages. This type of placement is not for every page, but can deliver strong results for service pages, blogs, galleries, and similar areas.
Footer: While an increasingly common place to find comprehensive contact information, this is quite literally the last thing a visitor will look at simply because it is at the bottom of every page.
Once a customer has contacted you, all you need to do is close the sale. If you operate an e-commerce website, contact information will seem less important, but it is still critical for picking up customers who want you to answer a quick question or provide reassurance before they proceed to checkout.
The numbers for online business don't lie
20 years ago being online was considered more of a fad than anything. 15 years ago it was a bonus, but some elite businesses could still get by through traditional methods like print advertising and word of mouth. Those days are long gone now, and the business world, whether blue collar or white collar, selling products or services, has shifted much of its presence to the Internet.
Still don't believe us? Here are some stats:
Simply put, you're conceding most of the business that is out there if you don't have a solid website heading your online presence.
What are you waiting for?
While all of these points have been true for years, a surprising number of people still fail to treat them with the importance they deserve. Some don't know where to start, and simply don't have the hours needed to learn how to take advantage of these lessons. Many are using a business website built with the cutting edge of what HTML had to offer 10-15 years ago. More still have websites they entrusted to someone who did not build or maintain them correctly.
None of these situations are ideal for a business, and older websites simply aren't able to compete on the level of today's more sophisticated designs. No matter which category you belong to, we aren't here to judge – we're here to help.
Call 319-229-5225 or send us an email here, and we'll take the next step for your business together with a professional web design.