WHAT IS AN SEO AUDIT? WHY DO I NEED ONE?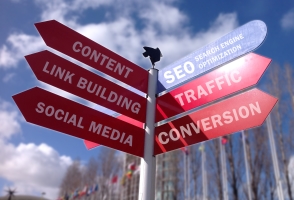 Do you really know how well your website is doing? How well do you understand where your website is thriving and where it is failing when it comes to SEO? Have you ever wanted a concrete report that reviews, organizes, and explains exactly what's going well and what you need to do to improve your online rankings? Then you need an SEO audit!
It is generally accepted that there are over 200 different ranking factors that have an effect on how websites are ranked by Google, and that number only seems to continue to increase each and every year. With a variety of terms thrown around (on-site SEO, off-site SEO, local SEO, trust, authority, Google penalties, metadata, schema, etc.) it can be easy to get completely overwhelmed.
Most businesses are better off hiring professionals to help guide their SEO efforts rather than tackling this online marketing issue from scratch. Our SEO audit gives you the perfect starting point for this, serving a variety of purposes that include:
• Creation of a clear blueprint for an ongoing SEO plan (either with us or a third party)
• Direction for preparing an in-house SEO plan
• A clear snapshot of how well your website is actually doing
• A clear outline of how well a current SEO program is actually doing
Whether you're preparing to forge ahead on your own, working with an independent SEO expert, or looking to hand us the reins, our SEO audit is the perfect solution for assessing where you're at, delivering the information you need to get the most out of any current or future optimization work. Our audits focus on three key areas that we'll elaborate on below: on-site SEO, off-site SEO, and technical SEO.
On-Site SEO Review
This phase of our SEO audit takes a detailed look at your current website. Using an in-house list of known important ranking factors, a thorough analysis of your website is performed to see what is up to standards, what isn't, and what direct actions can be taken to improve your results.
Our review of your on-site SEO doesn't just focus on factors known to directly affect SEO rankings, but also those issues which can be fixed to indirectly help a variety of website factors. These improvements can actually have a more direct impact on how your website ranks versus the competition because of the SEO ranking factors they influence!
Just a small sample of factors checked includes:
• Metadata analysis
• Tag studies & analysis
• Image analysis
• Heading/sub-heading use
• Quality of site structure
• Quality of content
Off-Site SEO Review
The off-site portion of our SEO audit takes a thorough look at the many critically important optimization factors outside your website, several of which are among the most important factors that go into ranking a page. While there are hundreds of blog posts and even books written on this topic, the most important thing you need to know is that if your off-site SEO is done right, you have a great chance of rising to the top. If you ignore it, then you probably will struggle in major ways.
This can be a confusing area to non-SEO specialists, and it is the area where the majority of big companies and agencies fail in spectacular ways. These failings in turn are often very harmful to their clients, who don't realize they're paying for their own struggles.
Just a small sample of factors checked includes:
• Number, variety, and quality of backlinks
• Hosting speed
• Overall quality of hosting
• Quality of mobile setup
• Customer ratings (where applicable)
Technical SEO Review
Technical optimization requires some serious knowledge, top notch tools, a really in-depth understanding of what Google is doing, and how Google's algorithms are constantly changing. The recent "Tremor" updates of March, April, and May of 2018 shows that Google sees these points as more important than ever – and you need to know how your site stands in this regard.
Just a small sample of factors checked include:
• Mobile friendliness
• Schema (when proper access is available)
• Canonical setups
• SSL check
• Flow of HTML, Java, and CSS coding
Your Personalized Action Plan

The highlight of the audit is a final SEO report that is often 13-20 pages in length and goes into extreme detail on what's good, what's bad, and what your priorities should be to get the most out of your website from an SEO standpoint. All action points are categorized as "high importance," "medium importance," or "low importance."
While you receive an incredibly well organized wealth of information, this report also delivers a personal, customized action plan you can use to not only understand exactly where you stand within each major category, but also what actions should be taken to give you the best results.
A sample of the resources in your audit to create this action plan includes:
• An in-depth website & niche analysis, created through the use of nearly two dozen SEO tools
• Thorough content review by professional writers & editors
• Personalized action plans based on your website's most pressing needs
• Full review of your on-site SEO
• Full review of your off-site SEO
• Full review of your technical SEO
That's a Lot of Useful Information – What's it Going to Cost Me?
We charge $500 for an SEO audit. Since this is a full service, payment is due up front and the audit will be completed within five business days after payment is received.
Is There a Gold or Platinum Package?
Generally speaking, no, because we don't believe in splitting up quality work. Our general SEO audits go above and beyond what clients have come to expect from SEO providers, and we aim to promise high and even over-deliver on that. Over 95% of the time, our "basic" SEO audits are going to feel like platinum level services.
Even more advanced SEO audits can be made available in a small number of cases, if needed. These are only needed or used in special situations that are created by the website content, design, niche, size of site, and other unusual factors. We will inform a client if this is an option upon initial review of the site, but our normal SEO audit will almost always be well above and beyond what you need.
Give us a call at 319-229-5225 or reach out through our contact form to get the ball rolling on yours today – because once you see the amazing amount of information and stunning report, you'll put it in the running for your best business investment.